Math in Focus is based on the internationally renowned Singapore Maths® method and focuses on problem solving as the heart of learning maths while teaching concepts  using concrete–pictorial–abstract learning progression through real-world, hands-on examples. This series of books has been tailored to the US curriculum based on Singapore's successful  My Pals Are Here series and  was developed by Dr Fong and leading US educational experts.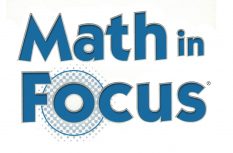 Why Math In Focus?
Follows the Successful Singapore Maths Curriculum
Singapore Maths is an internationally proven teaching method based on the successful K-10 Curriculum that has helped them consistently achieve top honours in international studies.
Concrete–Pictorial–Abstract Learning
Concepts are taught in a concrete-pictorial-abstract way so students can form a solid foundation to have a clear understand  of what numbers and symbols mean.
"At

BrainBuilder

™, they breakdown complicated concepts like algebra to students at a younger age through model drawing. This method helps children to understand concepts better and they can then apply this concept to word problems where most children struggle." Shirlyn, mother of two  boys in primary school



CONTENTS
The following math concepts are taught in Math in Focus® books in a sequentially matter, paying special attention to which math concepts are taught at each grade and to which extent to avoid repetition. This way, students will attain, retain and understand best.
Numbers and Operations
Algebra
Geometry
Measurement
Data Analysis
Make Sense in Solving Problems
Reasoning
Communication
Connections and Structure
Represent and Model Mathematics
Other series' by Dr Fong