During School Holidays we also provide "Holiday Program" in some of our learning  centres. Our last Holiday Program during September – October 2016  at our Eastwood learning centre in Australia targeted NAPLAN & ICAS learning outcomes for kids from Year 1 to Year 3. This program was very successful as it engaged students so well by employing techniques that keep them interested in learning.
Some feedback from our students about the Holiday Program
We asked them what was something new they learned. Here are some of their responses…
"Symmetry", "Algebra", "Loved everything", "Want to come back every day during the school holidays".
We received a lot of positive feedback from our parents
Nadine, Amelia and Matthew's mum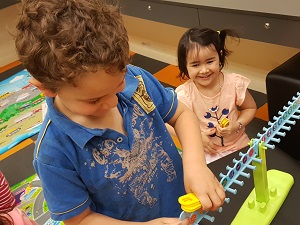 "I would like to acknowledge a great appreciation to the BrainBuilder™ holiday program. Both my children (age 6 and 7) enjoyed the day learning about patterns and maths concepts. The instructor was very patient and provided outstanding positive encouragement to both my kids. After picking them up from the course, we had a journey in the car where they were quizzing each other on maths theory and numbers. They reflected a lot more confidence and interest in numbers.
A big thank you to the BrainBuilder™  team for an exciting day and looking forward to doing more courses with them in the new year.
Regards, Nadine ".
Stay tuned for more information on our next Holiday Programs that will start on July 2017.
They will be also targeted to NAPLAN & ICAS learning outcomes, and this time for students from year 1 to year 6!
And extension enrichment for our high school students!